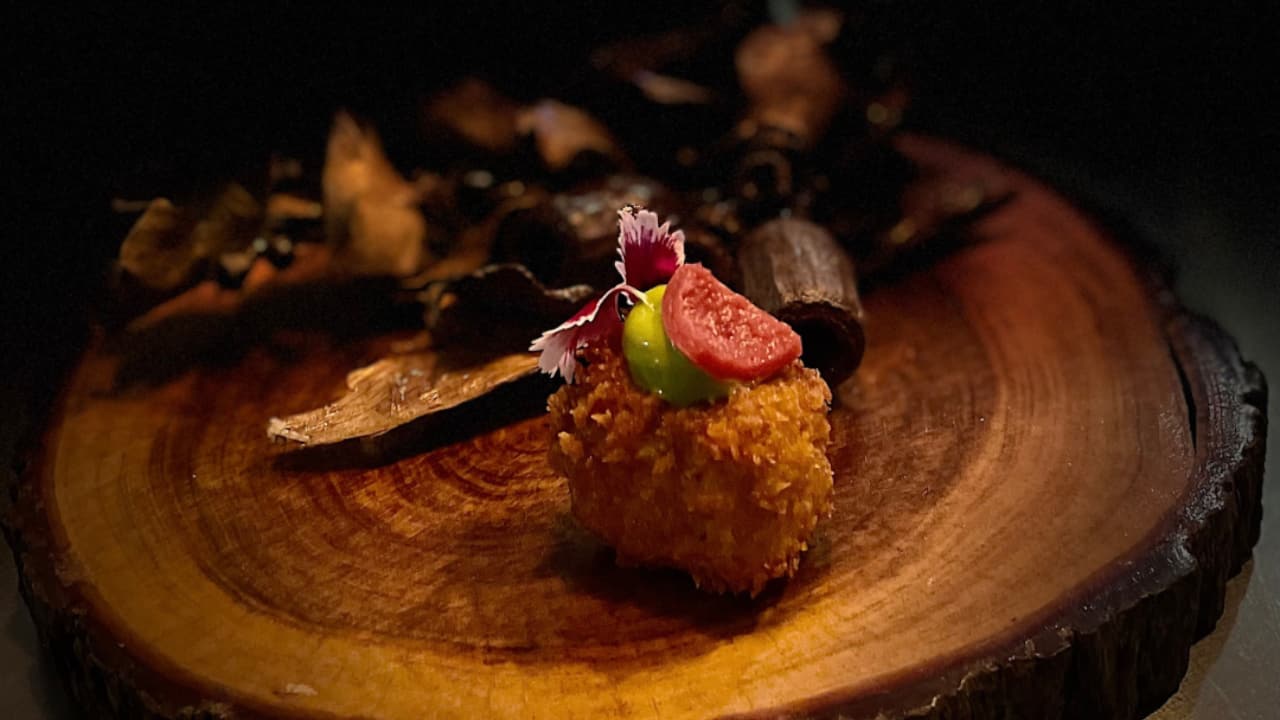 Coat of Arms Croquette
With Bush Basil Oil, Bush Basil Emulsion and Picked Quandong
Recipe provided to us by The Flackyard from Chef Nik Flack
Ingredients
250g kangaroo mince
250g emu mince
100g minced beef fat
1 small carrot peel finely diced
2 stalks celery finely diced
1 small onion finely diced
100mL Grapeseed Oil
2 cloves garlic minced
10g Australian Bush Basil
10g Australian Native Oregano
10g Australian Native Thyme
100g tomato paste
1 tin diced tomatoes 250g
250mL cooking red wine
2g ground Pepperberry
1 gelatine leaf / 5g gelatine powder
Method
Sweat off veg in grapeseed oil.Add dry spices.
Brown off roo and emu mince In the mince beef fat.
Add tomato paste and cook out.
Add red wine.
Reduce until wine is cooked in.
Add tinned tomatoes.
Cook at low temp for 45 minutes.
Season with salt.
Add gelatine while whisking or stirring through to break it down.
Then set this meat mix on rectangular roasting tray to a depth of around 2cm. Allow gelatine mix to set in fridge overnight. Turn flat tray of mix out onto a chopping board. Cut into desired shape either rectangles or cubes.
Coating the croquette
Take 3 bowls
One with salted flour
One with whisked egg
One with panko breadcrumbs
Take your rectangle of set meat, first coat in the flour bowl, then dip in the egg bowl, finally cover in panko breadcrumbs. Then pan fry or deep fry until golden brown.
BASIL EMULSION
This is an egg yolk emulsion.
1 egg
5g apple cider vinegar
5g Dijon Mustard
Pinch salt
You will need a runny 4 min boiled egg. Peel the egg. Stick blend the runny boiled egg until smooth with apple cider vinegar, Dijon mustard and a pinch of salt.
Make this a Bush Basil emulsion by slowly adding the Bush Basil oil and continuously blending.
BASIL OIL
100g spinach
100g rice bran oil
5g dried Bush Basil
Blend in blender until warm and until the oil splits from the spinach and Bush Basil. Strain through a muslin cloth. Set aside for emulsion.
PICKLED QUANDONG
100g water
100g apple cider vinegar
20g sugar
3g salt
Dissolve salt and sugar in apple cider vinegar bringing up to a warm temperature. Chill mix by adding water. Add quartered fresh quandongs. Make these the day prior to serving.
TO PLATE UP
Take your golden croquette. Pipe two dollops of Bush Basil emulsion on top. Place pickled quandong a top the Bush Basil emulsion. Garnish with edible petals like Native Violet if you desire and have them in your kitchen garden. Serve with a smile.